Discussion Starter
·
#1
·
This is our FIRST ARK promotion! Lets start off the New Year with a BIG SALE!
FEATURING:
ST-P COILOVERS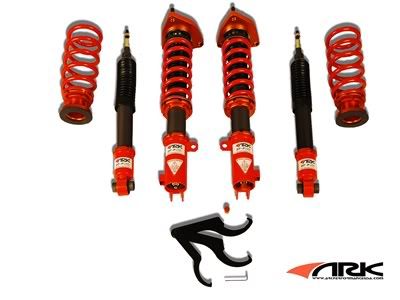 Fully Adjustable Coilover Kits provide the ultimate in suspension technology for your street or track car.
16 levels of dampening adjustment
allow you to fine tune the ride to your handling and comfort needs. The dampening adjusts compression and rebound simultaneously for ease of adjustment. Pillow ball top mounts in the front and rear on some applications allow you to maintain vehicle manufacturer suspension geometry design.
The Rubber Top absorber mounts ( ST-P only) also allow you a more soft comfort driver response than our DT-P .
Most applications utilize an adjustable lower mount, which means you adjust height without losing suspension travel like some other coilover designs do. With the mounts and most pieces of the coilover being designed for 6061 billet aluminum the kit is lightweight, durable, and rust resistant. The steel shock body is electroplated with zinc to resist rust and the elements. The valving of each set is matched to the springs installed for unmatched ride quality and reliability.
The ARK system uses a Monotube design in which the oil and gas are separated within the cylinder. When compared to twin tube designs the Monotube dissipates heat better, allows finer dampening adjustments, and requires more expensive design process. Aeration and cavatation are a lot less common in a Monotube design, which results in a better ride. The ARK DT-P Coilover system has been designed with professional road racing in mind offering extremely high value and performance. The ARK ST-P Coilover system designed to adapt to all of your driving conditions, will create the harmony between power and stability which you demand. The full length adjustment system gives you the freewill to place various set-ups to meet your needs for specific road conditions. Hard rubber upper and lower mount designs in ST-P series absorb noises as well as vibrations to allow the cabin for quiet operation while still offering flawless suspension proofing.
PM US FOR A PRICE!
Key product information
:
- Hyundai Genesis Coupe 09-ON
- All bolt on system.
- 16-Level Adjustment
- Street Comfort Performance Spec.
- Rubber Mount
- Monotube shock design for quick reacting and quite dampening operations.
- Adjustable Ride height
- Specially designed with JDM Racing Team
- All 15months manufacture limited warranty