ARK Performance Inc.
5490 Brooks St., City of Montclair , CA 91763 / Tel) 909.391.1275 , Fax) 909.391.1276
Website:
ARK PERFORMANCE
, Email :
[email protected]
INSTALLATION GUIDE
( PART#: SM0702-102G, 202G , 302G / DP0702-0020)
Thank you for purchasing a ARK Performance Exhaust System.
Precision manufactured using aircraft quality T-304 SUS; this system is designed to endure years of heavy use. Installing a ARK Performance Exhaust System on your vehicle will eliminate the restrictive design of the stock exhaust, allowing your engine to discharge exhaust gas easier. The result is more HP and Torque, longer engine life, and a distinctive throaty growl-all this, with easy bolt-on installation. These installation instructions have been written to help you in the installation of your ARK Performance Exhaust System. Please read it completely before installing your system.
This ARK Exhaust system ( Part No. SM0702-102G, 202G , 302G / DP0702-0020) has been designed for the 10-ON Hyundai Genesis 2.0T Coupe all model equipped with automatic or manual standard transmission. ( Picture below shown as 2.0T Dual Genesis Full Exhaust System )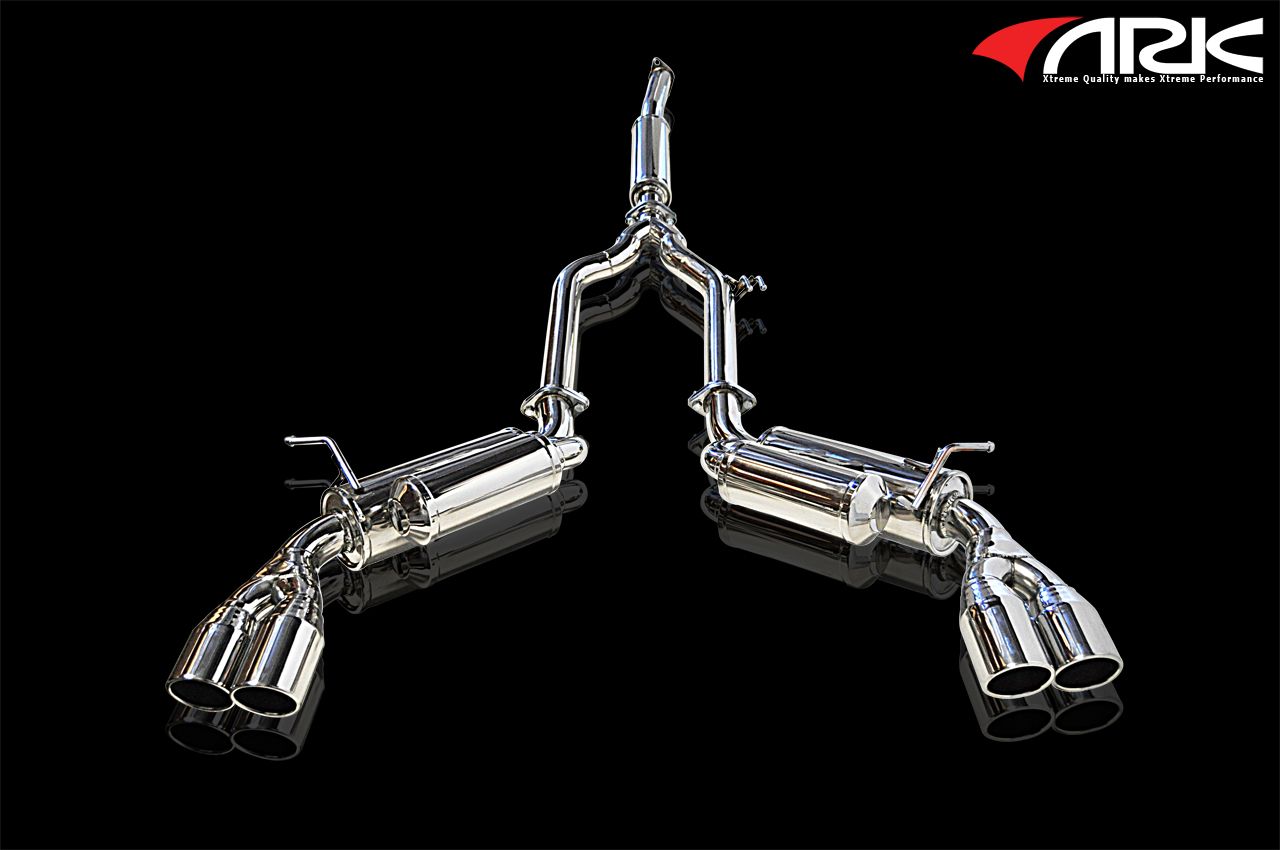 Please take time to read and understand the following…..
By installing your ARK Performance Exhaust System, you indicate that you have read this document and you agree with the terms stated below.
It is the responsibility of the purchaser to follow all installation instruction guidelines and safety procedures supplied with your ARK Performance Exhaust System.
ARK Performance Inc. assumes no responsibility for damage occurring from misuses, abuse, improper installation, improper operation, lack of responsible care, or all previously stated reasons resulting from incompatibility with other manufacture's products and/ or systems.
ARK Performance Exhaust System included :
1. Exhaust system
• Rear section muffler – Right Side , Left Side
• Middle Y pipe – 1pc
• Resonator Pipe – 1pc
• Test Pipe / Down Pipe – 1pc each / Optional Part ( DP0702-0020 )
2. Flange Gasket – 5 pc ( 2 Muffler Gasket , 1 Resonator / 2 each side Test Pipe ( Optional Part )
3. Bolts & Nuts – Full Set
TOOLS : 17mm / 14mm / 10mm / 12mm / 5/8 inch / 19mm/ 21mm Socket Wrench or Wrench
WD-40, CAR LIFTER and your friends to help align the muffler.
Caution!! NEVER work on a hot exhaust system. Serious injury in the form of burns can results if the vehicle has been in use and the exhaust system is hot, allow vehicle to cool for at least 2hrs. Always wear eye protection when working under any vehicle…
Note 1 : This is our recommendation that you use a hoist or hydraulic lift to facilitate the installation of your new ARK Performance CatBack Exhaust System.
Note 2 : Before your installation procedure, please compare the parts you have received with the installation guide kit provided on the previous page to assure that you have all the parts necessary for the installation of your ARK Performance Exhaust System.

ORIGINAL EXHAUST REMOVAL PROCEDURE
Note: With a used or New Vehicle , We suggest a penetrating spray lubricant to be applied liberally to all exhaust fasteners and allowing a significant period of time for the chemical to lubricate the threads before attempting to disassemble.
Warning: Use extreme caution during installation. Torque all fasteners according to manufacture's torque values and tightening sequence. DO NOT use air impact tools to tighten fasteners on ARK Exhaust Systems. Use of such tools may result in bent flanges or gasket contact areas leading to exhaust leaks.
1. Before installation, please make it sure that insulator rubbers correctly set. Also, please confirm that they are not missing any hardness or any product damage or defect. If you find them defective, please read our company exchange policy or return policy.
2. Remove OEM or any other aftermarket exhaust system carefully using proper tools. Remove 2 top bolts connected OEM flex pipe. ( For our part number DP07002-0020) , If you purchased only catback system, please start with #4 installation process )
3. Remove 2nd CAT using 17mm socket or wrench tools and remove rubber hanger.
3.1 Remove Cross bar using 10mm socket or wrench. ARK exhaust system does not require using cross bar. Replace and tie bolts using washer to hold heat shield to prevent rattle or vibration.
4. Remove all the hangers from insulator rubber from resonator pipe and muffler each side. Now, you're able to remove old exhaust system.
You are now ready to installation of your ARK Performance Exhaust System.
Let's start with rear section
TOOLS : 5/8 Socket or Wrench, 17mm Socket or Wrench and other extra tools.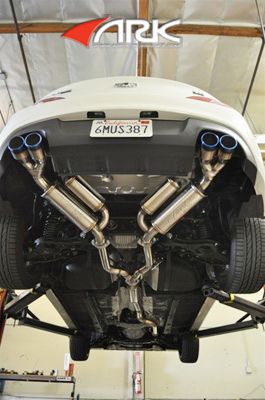 1. Insert rear muffler assy each side.
2. Watch the positioning of muffler and body, and fasten all the connecting bolts & nuts or hanger bracket if you removed with bracket.
3. Insert middle Y pipe & connecting rear section muffler using proper size gasket and do not fasten all bolts until finalizing proper fitting.
4. Now, insert resonator pipe with middle pipe and adjust the system for overall aesthetics and clearance of frame & bodywork.
4.1 Now, Tie all the bolts. Your ARK CATBACK System installation finished. If you purchased FULL Exhaust System, You may also add optional part such as test pipe ( 2nd CAT position ) and Down Pipe ( FLEX PIPE Position) into same as oem proper fitting with the gasket.( Down pipe between Header gasket not included . Please use factory metal gasket.)
5. After your fasten all, shake the whole muffler once again and confirm that the clearance is all right. Specially, tail end part become of high temperature, which occasionally causes the resin bumper dangers of discolor or melt. Enough clearance must be maintained.
4. If you find something irregular, please loosen all the flanges and repeat the works from step #1 .
5. Once your installation completed. Start the engine wait about 5min and race the engine toast 2000 to 3000 rpm, and check leakage of exhaust pipe connection or abnormal sound. ( note: Make it sure that the side brake is on ).
6. Now, you become Team ARK !! enjoy driving GEN 2.0T with ARK GRIP True Dual Exhaust system on it.
Once again thank you for choosing ARK product. Please try ARK Coilover system next time.