Discussion Starter
•
#1
•
Before this story and review begins I would like to warn you its very pic heavy, and with amateur level quality!
There I was cruising through Facebook looking at all the teaser pics of the BTR Stage 3 kit, waiting patiently for it to be released. Funds in hand just waiting for the go ahead from BTR to send them money. Every other mod was put on hold, and nothing was more important at that time than getting this kit. Fast forward to the day it is released...imagine my disappointment when the title reads "Manual Transmission ONLY". My heart dropped and after many messages to the guys at BTR trying to persuade them into just sending me one anyways, the response was "We will be doing more R&D with the auto and this kit, and will let you know when its ready to release".
So there I was, money in hand with nothing to buy. I know, I know, talk about first world problems! So back to my mod list I went, and ordered my air bag suspension.
The very next day, and when I say "very next day", I mean literally less than 18 hours after the bags were ordered I get a PM from BTR asking if I would like to be one of the test vehicles for the Stage 3 for the Auto. Without any hesitation the answer was yes.
Fast forward once again to when the kit comes in. The automatic kit comes with a GT3071R (versus the GT3076R the manual kit comes with), manifold (choice of MXP and Synapse), Brand new canned tune ecu, couplers, clamps, all necessary hardware, and the option for the other needed parts such as the 10-12 o2 housing, NGK colder spark plugs, and electronic or manual boost controller.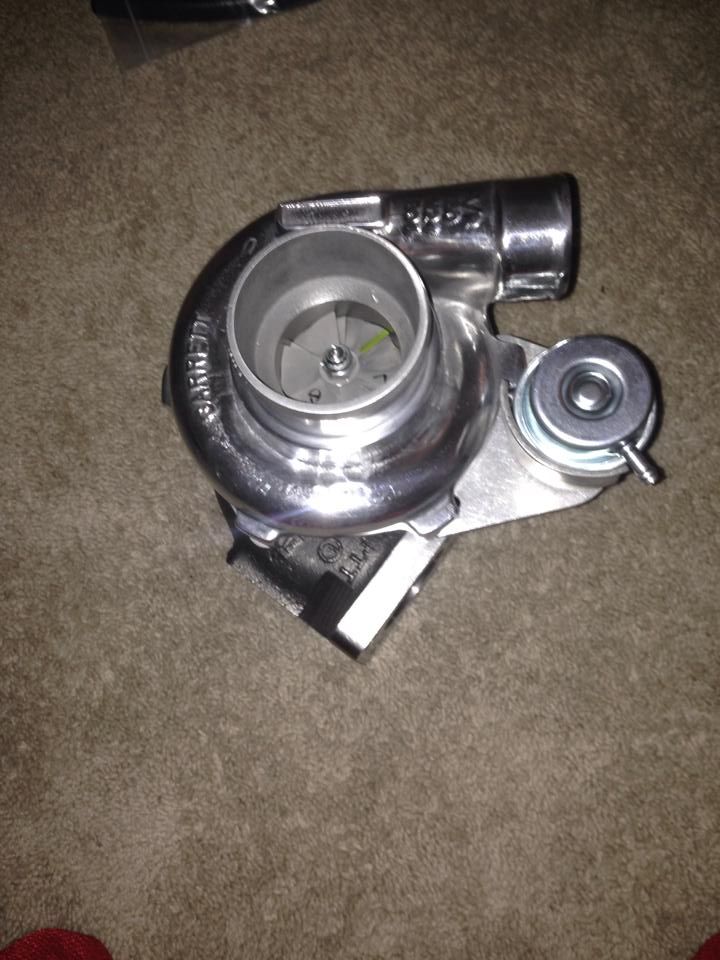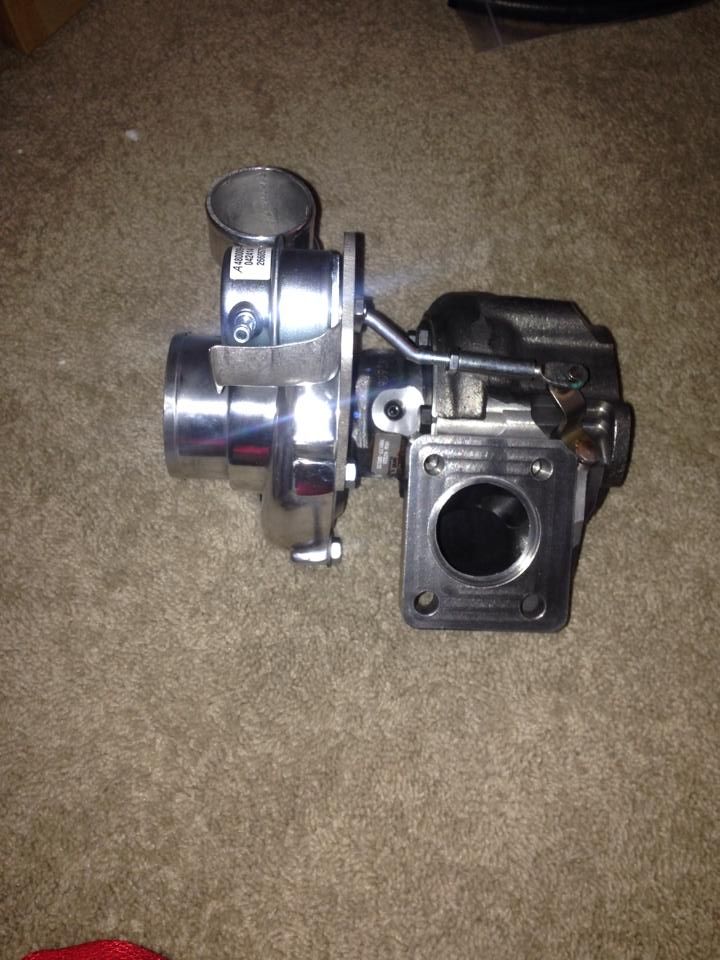 I skipped the pictures of normal stuff like o2 housing and plugs, hope you know what those look like!
Then came the install. While piecing together and mocking everything up a few days before we realized that the studs that come with the turbo from ATP were incorrect. I contacted Bill at BTR and the next day I had the correct studs in my mailbox. The install went very smoothly, and with very little hiccups. We had an issue with the lower oil return line, which was quickly diagnosed and fixed. The kit comes with the hosing, and you cut it to the length you want, we left it too long and it was allowing the line to have and small kink, thus limiting the flow of oil out of the turbo. Super easy fix, and 100% our fault. Another issue we ran into was the oil feed bolt. This kit uses oem oil feed placement, but with a new stainless steel braided line and fittings. The width of the new banjo was larger than the oem one, thus leaving the oem banjo bolt with less threads to make contact into the oil filter housing. On top of that the oem oil filter housing is extremely crappy! The threads are very easy to strip, and when it does the threads will come out with the bolt. This was also our fault on the install, but ended up using a different banjo and banjo bolt. The only other issue we ran into was my aftermarket intercooler piping. Since this kit was designed to come with couplers for the oem piping which I no longer had I had to really struggle to make it fit. I will be having a new hot pipe made eventually.
The only thing I can say about this kit that might need to be included is a heat shield. The manifold is very close to the valve cover and it gets very hot. I was lucky enough to get one locally from a friend.
After a few days of pushing the car hard, I noticed some stock wire loom melting, and got some DEI Thermo tubing to cover everything in the area, as well as DEI gold heat tape to cover the heat shield and fuse box on other side, as well as a portion of my hood. All probably not needed...but I got a good deal on it all so kinda went nuts!
FYI-I do not like the 49ers...it just kinda happened that way! I did graduate from ASU...so GO SUN DEVILS....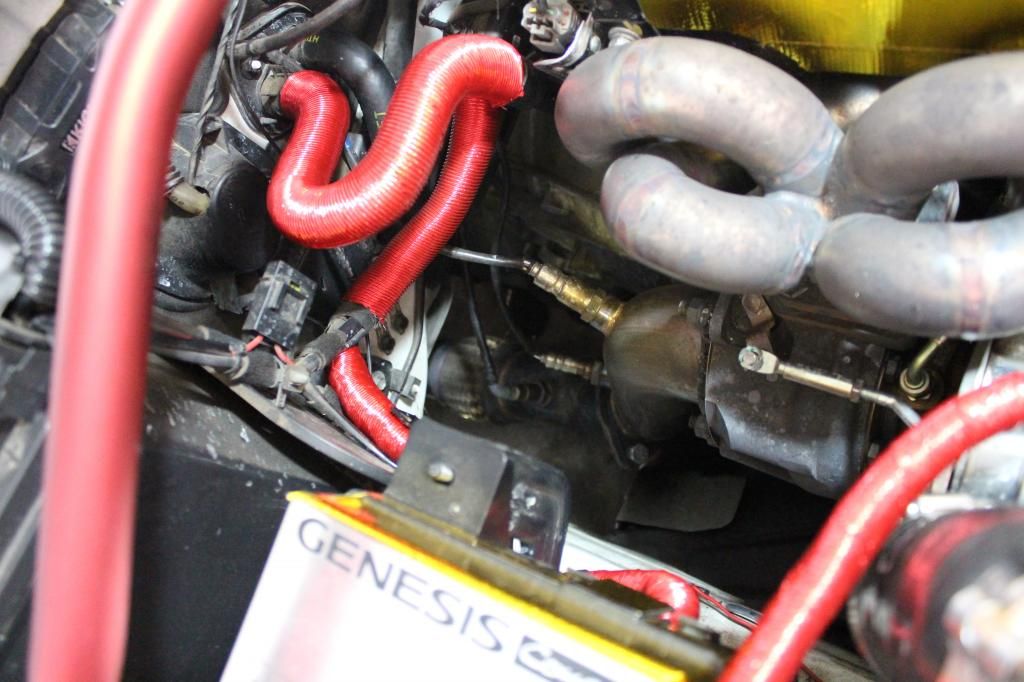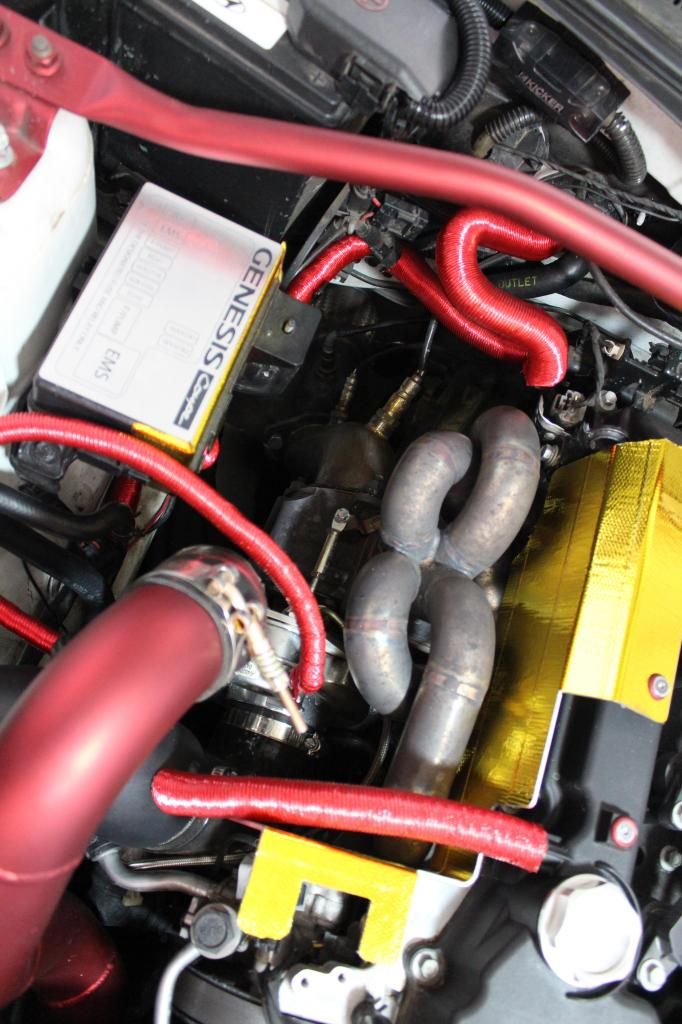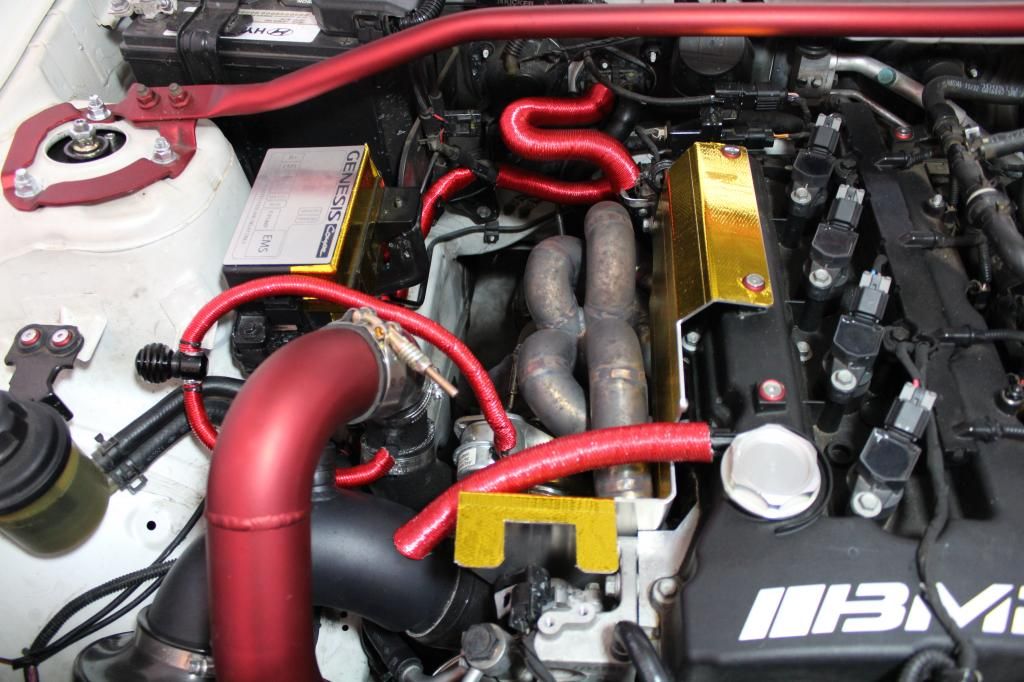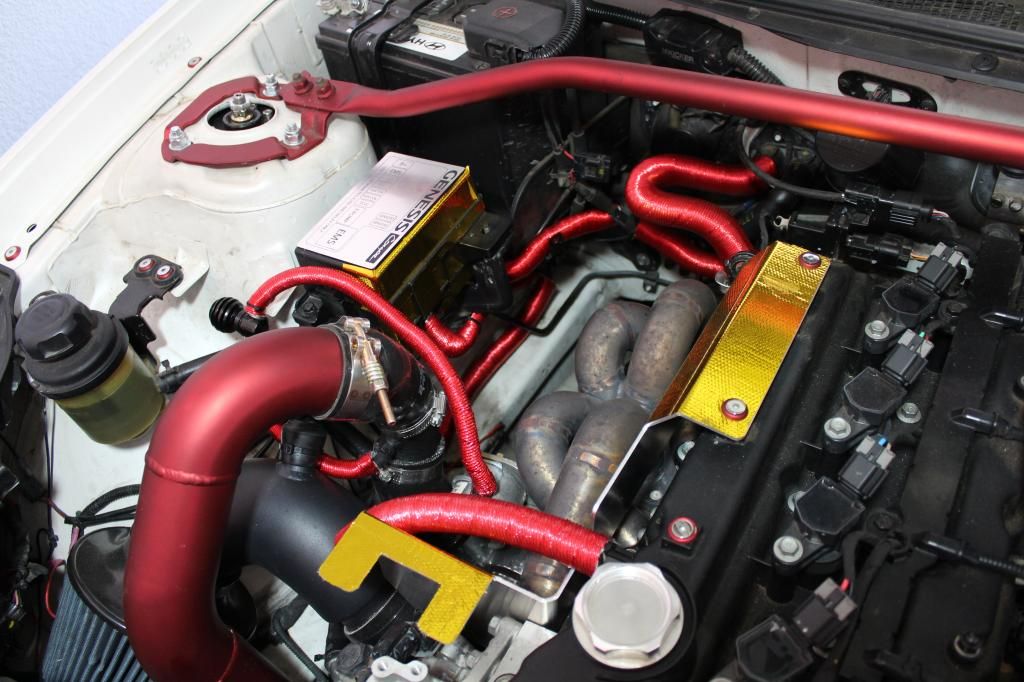 EXPLANATION: This is an auto, and we dyno'd in sport mode in 4th gear. You will see on the graph a large spike in power and torque at the end, this is the car shifting last minute into 5th. So the max numbers do not represent what the car did. The mark on the graph at 353.08hp is the true peak. Also take note that analog 1 is boost.
Other car mods:
Black Market Racing Intercooler piping
Black Market Racing Intercooler
Tial Q BOV
Injen Intake
Isis Downpipe
Isis Testpipe
Ark DTS Cat-back
GFB MBC
A long list of body, interior, suspension, and stereo/electronics mods not really important to this review. (but yes its a full re-spray in Lamborghini Balloon White, not this vinyl wrap nonsense!)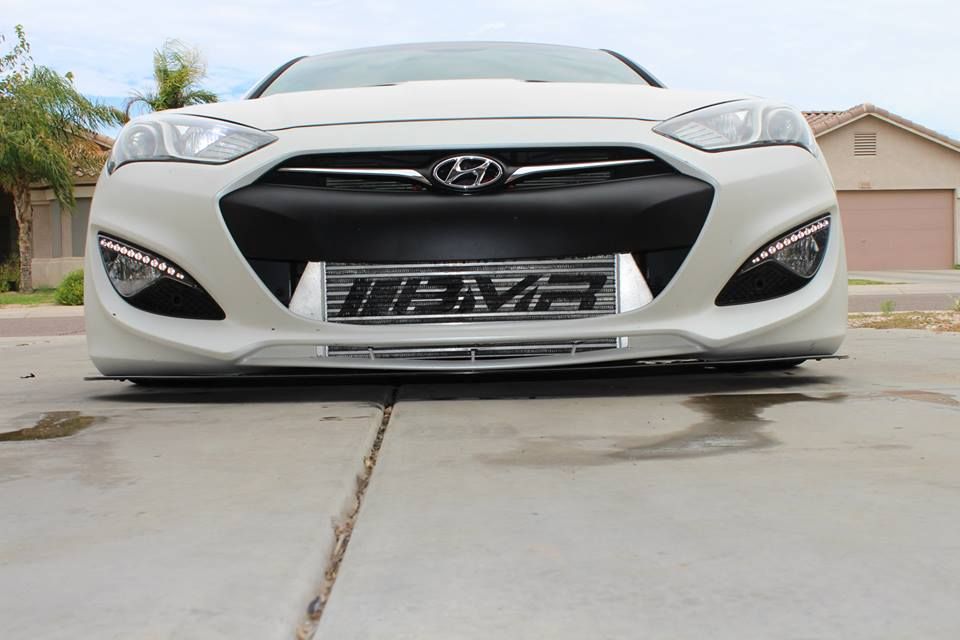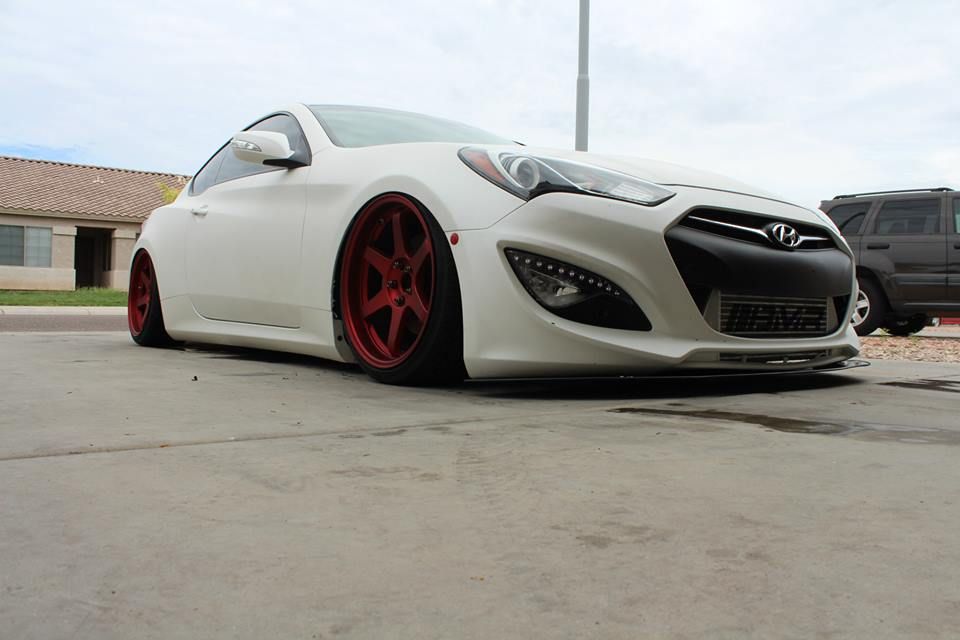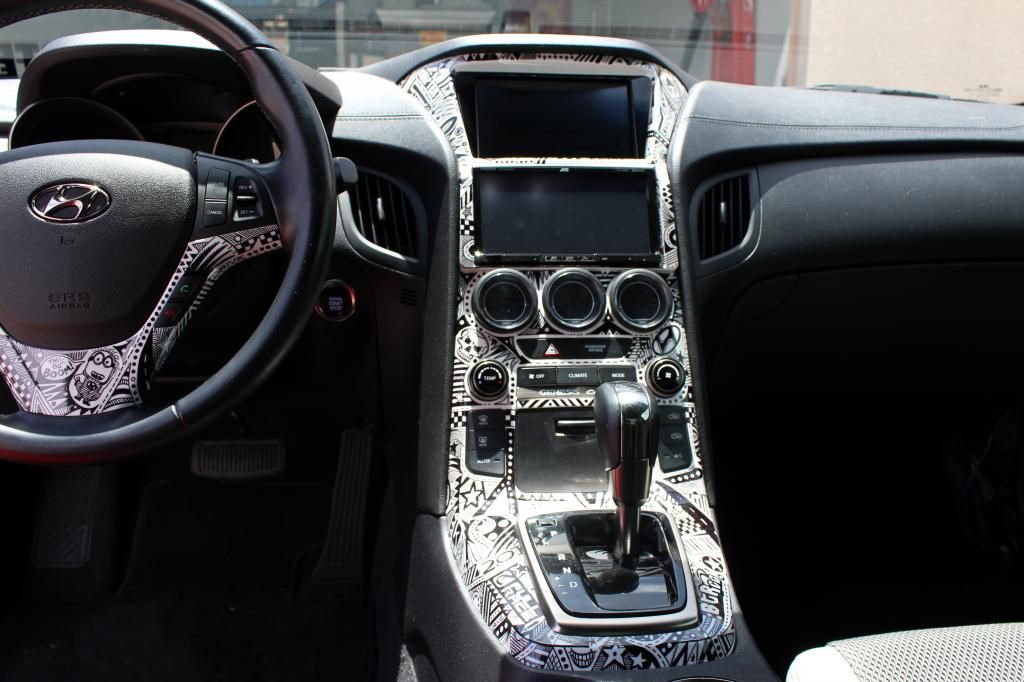 I would like to thank the guys at BTR for being nothing but helpful during the entire process. Can't wait to get this thing a custom tune and really show its potentional.
Special thanks go out to Bryan Twito and John Luby for the helping hands during the install process, as well as all my fellow Chapter 11 Section 227.