Discussion Starter
•
#1
•
Well, I originally wrote this for TECH exhchange a few months ago, whom havn't logged on since March, so I am doubting they are coming back...... I like the idea of 'working' for your membership, so I was hoping to get one that way, but I guess not..... oh well. So I figured I would post this here maybe to be a sticky somewhere if you guys find it helpful.
There is a reason cars come out of the factory with a DMF (Dual Mass Flywheel) and an organic Clutch. These cars are designed for longevity and smoothness and least NVH (Noise Vibration Harshness).
Being that this is an enthusiast and modifying community, we are more geared towards more power and are willing to accept the increase in NVH and decrease in longevity. But we should still be aware of what those things are and how the aftermarket parts affect our car as some of us still DD (daily drive) our cars and others have strictly track cars.
Flywheels:
First, the purpose of the FW (flywheel) is to take the jerky up and down combustion events with limited power in them and give the crank shaft some momentum to help pull the crank around and have less up and down motion on it.
DMF's are two FWs, conjoined with a spring, or rubber or numerous kinds of shock/energy absorbing properties. The one FW is attached to the crankshaft and the other FW is connected to the PP pressure plate, they aren't rigidly attached. So when push the clutch pedal in and disengage it, both sections of the FWs are moving with the engine and the clutch plates are moving with the transmission, which if you are in a gear are moving with the wheels and if not in gear the clutches are slowing down or stopped. When you want to engage the clutch you usually release the clutch pedal out until you feel the clutch plate start to grip the FW and you slowly let feather it out. If you were to just release the pedal with no feathering the grip is somewhat instant and you have a fast moving engine FW and a different speed clutch trying to match the FW. This would put a ton of stress on your engine and transmission but your FW can absorb a lot of that as the crank FW has some give to it and the PP FW has some give to it and a bunch of stress that would go to your transmission and engine now get absorbed into the spring or whatever the DMF used. Though dumping the clutch is not does put a ton of stress on the DMF and can eventually break them. They still help to reduce NVH felt even when feathering the clutch as there is no rigid connection between the crank FW and the PP FW. They also are not made for very high rpm as the DMF is heavy and when you spin something heavy centrifugal force can tear it apart. They have been known to explode and go through the bell housing and into the cabin causing harm to the driver or passenger.
Here is a video showing how they work
That is one reason the SMF's are made. They are much lighter and can handle higher rpm and are less likely to separate at higher rpm due to them being a rigid piece of metal. They are also much cheaper to manufacture though some companies for other cars make after market DMF's for those who want to run more power, but don't want to sacrifice the NVH and longevity. Though you now have a rigid connection from the crank to the PP, just one solid piece of metal. So if you get too rough with the clutch pedal release you risk damaging or reducing the life of your transmission parts and possible the engine, though mainly the transmission and driveline.
Other than the safety aspect and the cheapness of SMF's there is the weight loss aspect. The lower the mass of the FW the faster the engine will rev and you will lose less hp to the wheels with up to 30hp not lost being in 1st gear and slowly dwindling up 1hp in 5th gear. Though if you go too light the whole purpose of the FW is lost and you will have a rough very jerky engine with trouble idling and self sustaining. One way to get around the really light FW's are is to raise the idle rpm so the combustion has more power to it require less momentum from the FW. Which again makes this less of a DD and more of a track car.
Clutches:
The basics of how a clutch works, is it is a disk with friction on it (much like a brake pad) that is splined to the transmission input shaft and spins with the transmission. The FW and PP are bolted together and spin with the crank shaft. The PP pushes against the clutch disk to mate it to the FW so the clutch (and transmission) can spin the same speed as the engine. When you push the clutch pedal in, you are relieving the PP's force on the clutch so the clutch is no longer pressed against the FW and the transmission and the engine are separate again so you can change gears.
A video demonstrating this
The formula for how much a clutch can hold is pretty simple:
(PP strength*Clutch disk area*Friction Coefficient)/Constant
Some companies actually use this formula to come up with a tq (torque) number, while others seem to use a percentage over holding tq when they describe their clutches.
We can change the PP strength. You could keep the same organic clutch let's say it has a 1000lbs PP (remember you are hydraulically assisted and there is leverage) and your clutch slips at 300lb ft of tq. If you wanted to hold 600lb ft, you could just increase the PP force (to an extent) and all is good….. kind of. One issue will be your Popeye left leg you will need and/or develop and this can really suck in traffic. One way to get around the strength issue is to move the lever out further giving you more leverage, but then your clutch pedal travel will have to increase. Or let's say, even if you are strong and this isn't an issue, you are pushing hard against the FW and crank and can lead to premature crankshaft thrust bearings. So generally speaking, you don't want to get a PP that is too strong, what is too strong is really up to you. But beware some companies try to brag about holding power, but really they are just using a really strong PP and that is why it doesn't cost as much as the others.
What about clutch disk area is limited in diameter due to the bell housing. But we can increase this area another way, by added a clutch disk. There are twin disk clutches available or other cars even have triple disk clutches and some drag cars have multiple (as many as 5) disk clutches. Drag cars also have fingers with weights on them and slots that utilize centrifugal force to pull the weights out and add pressure to the clutch but this isn't found of the average car. Usually multiple clutches will cost more but are really the best answer for increase tq holding capability. You have a floater that looks like a cog that goes between the PP and FW bolts and acts kind of like a FW so you can add another clutch to add friction. Chances are modifying your car to the current power levels wasn't cheap, so why cheap out on a high PP that could cause damage to the engine you have just spend 3 times the money beefing up. Save yourself the hassle and spending the extra money up front on a multi disk clutch could save you a lot more money in the long run, and most likely make you car easier to drive, even in traffic and you could still have the holding tq needed.
Lastly we have the Friction, which also have their own trade-offs on holding power vs. ease of engagement, or how 'grabby' it is. The different types available are:
"Organic (OEM on most cars): Metal-fiber woven into "organic" (actually CF amid with other materials). Known for smooth engagement, long life, broad operating temperature, and minimal-to-no break in period. Will take hard use, somewhat intolerant of repeated abuse (will overheat though). Will return to almost full operational condition if overheated. Material is dark brown or black with visible metal fibers.



Kevlar: High-durability material more resistant to hard use. Engagement is similar to organic, but may glaze slightly in stop and go traffic, resulting in slippage until worn clean when used hard again. Higher temp range in general, but can be ruined from overheating; will not return to original characteristics if "cooked". Material is uniform yellow/green and may look slightly fuzzy when new.



Ceramic: Very high temperature material. Engagement is more abrupt. Will wear flywheel surface faster, especially in traffic situations. Due to it's intrinsic properties, ceramic has a very high temperature range. Material is any of several light hues - gray, pink, brown.



Carbon: Very high temperature material. Engagement is more abrupt. Will wear flywheel surface faster, especially in traffic situations. Slightly more durable and flywheel-friendly compared to other aggressive clutch materials. Material is black."



Sintered Iron: Extremely high temperature material. Engagement is extremely harsh and is generally considered an "on/off switch" both due to it's characteristics and the clutch types this material is generally associated with. It requires a special flywheel surface. Material is metallic gray in color."

SOURCE for clutch info
As you can see from the descriptions above the trade-offs. Ceramic usually comes in Pucks (I have never seen a ceramic disk) and everything else usually comes in disks (though I have seen carbon pucks before. Sometimes you will find a mixture like a ceramic/sintered mix. Those slits you see in the sintered disk is usually where the centrifugal finger go that drag cars use.
Clutch Disk/Pucks
:
A Puck is basically like a brake pad, they are little pucks/squares of this friction material that actually touches the FW. The reason for pucks is basically they allow less weight. Where as a Kevlar clutch disk, the whole disk is Kevlar, the puck types the disk split into 3-6 even/balanced section (kind of like a fan blade) and the disk is just a cheap light material that doesn't actually touch the FW, but the pucks or friction material does. They come in 3-6 pucks I have seen, and all the force on the PP is now concentrated to those small pucks and they grab much harsher than disks and are harder to feather. Also if your clutch and FW is really hot and engage, you can add un-even marks on the FW and cause chatter really bad much like a brake disk.
Picture of a 3 Puck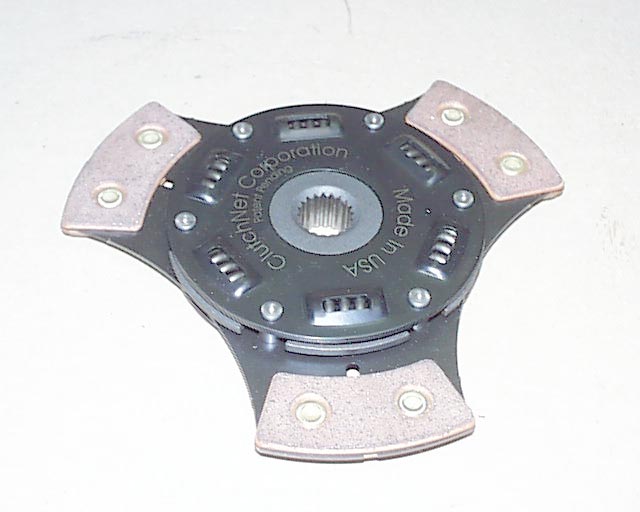 6 Puck
Sprung/Un-sprung:
You will sometimes see little springs on the center around the center of the clutch and these also help reduce the NVH. But they add weight, and those trying to get the lightest clutch possible (namely racers) use un-sprung clutches. Those springs that add weight are not on the clutch disk, but the clutch will tend to chatter a bit more and it can't absorb any energy kind of like a mini-DMF and the transmission has to absorb all of that force. Racer who re-build their transmission all the time don't have to worry about this, but the average DD would probably be better off with a sprung clutch IMO.
Picture of an Un-sprung and Sprung
The basic break-in for a clutch is to just keep the rpm below 4,000 and don't dump the clutch for the first 500-1000 miles. There is really no need to get a clutch that holds 800+hp if you only plan on making 300hp. All you are doing is screwing yourself, by possibly making your car harder to drive, and possibly wearing the transmission and driveline out faster. The point being, look at the above info and weigh you option, and buy what you need. No need to flash your manly-hood and buy a 4 times tq holding clutch.