Major Build Info in Posts #1, #2, & #31
Hey guys, I've been around the forum for a little over a year now and I thought it was time to make a build thread. This thread will also serve as just a way for me to keep track of everything that I've done to the car. I do have plans to build the entire engine and go for serious power, but that'll have to wait until I find another daily driver. In the meantime my plans are to be in the "Stage 3" area (300whp/300wtq) and just hang out there for a while.
Alright, I bought the car used in May 2012. It's a 2010 2.0T Bathurst Black R-Spec and only had ~13k miles on it when I found it. I haven't had a second of trouble out of it other than the passenger side taillight being replaced under warranty for condensation. I'll try and post pics for everything, but I'm sure there are a few times where I didn't take pictures.
So, enough talk, on with the pics.
This is the oldest pic I have of the car. This was taken the day after I bought it.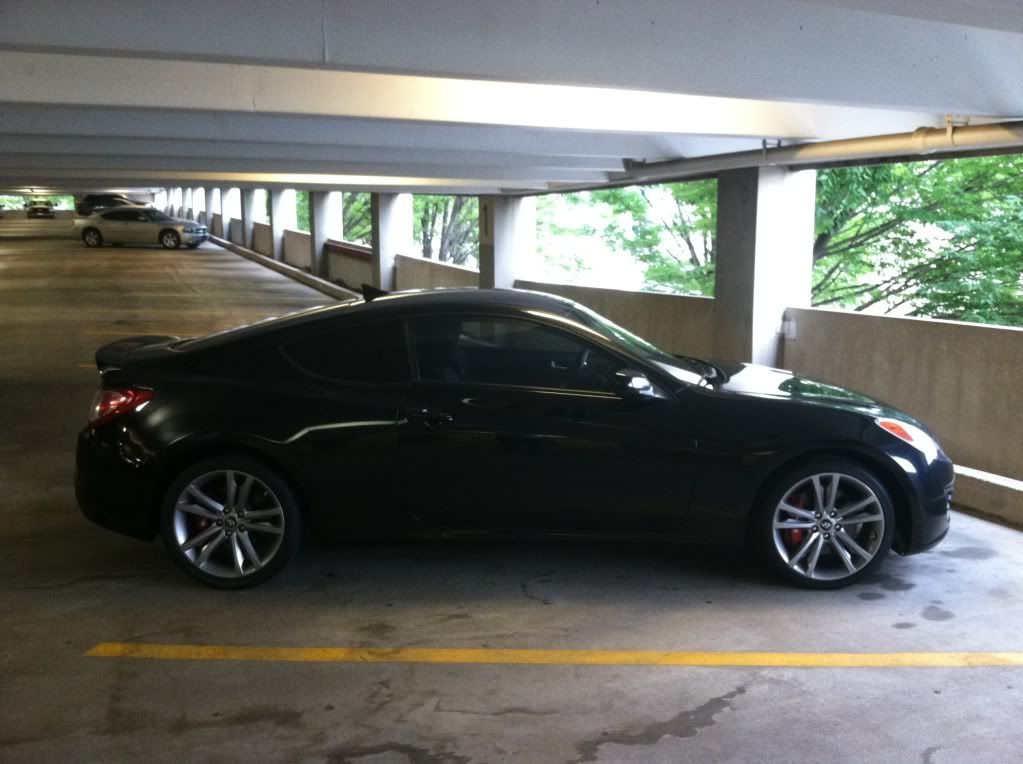 Although it isn't the first car I've ever worked on or modded, it's my first import and first turbo car so I spent a lot of time the first few months just reading and deciding what route I wanted to take.
Before I even changed anything on the car I found a few other local coupes and met up with them. At the time I was definitely the "stock-est", but it gave me some great ideas.
Thats me at the top on the left side of the picture.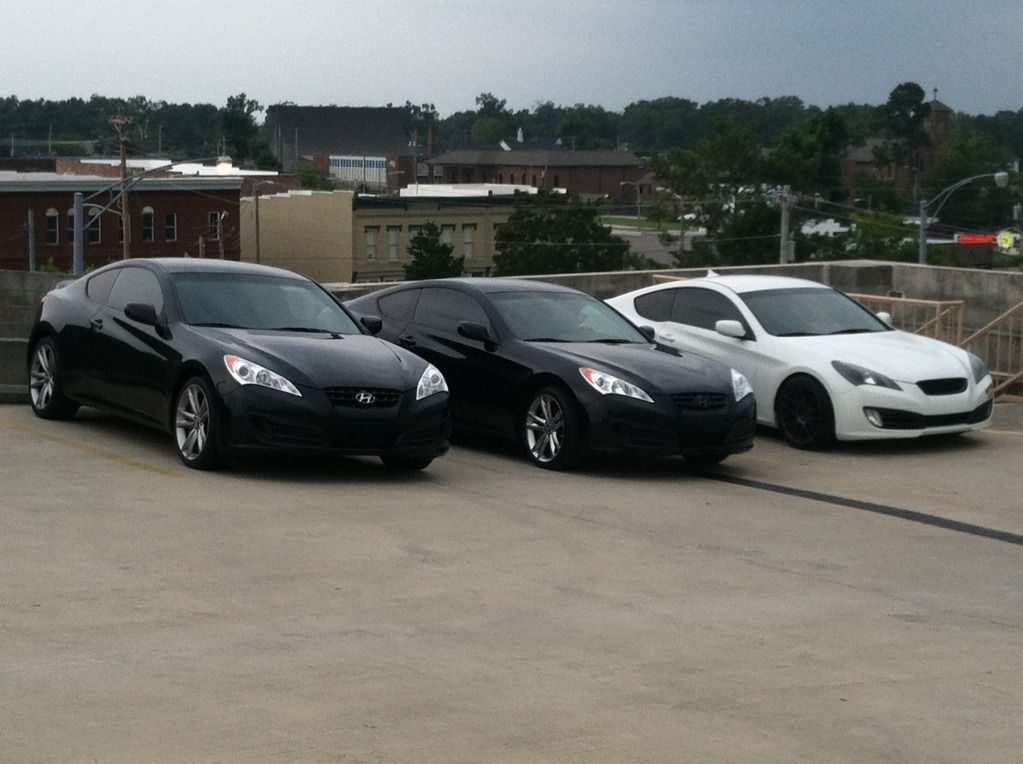 My first change was adding a Forge BOV. No pic here, but there are plenty of DIYs and pics elsewhere on the site if you just really want to see what it looks like.
About the same time I did my own custom SRI. I just picked up a couple of clamps, coupler, elbow pipe and filter and voila. I removed all the stock airbox pieces as well just for a less cluttered engine bay.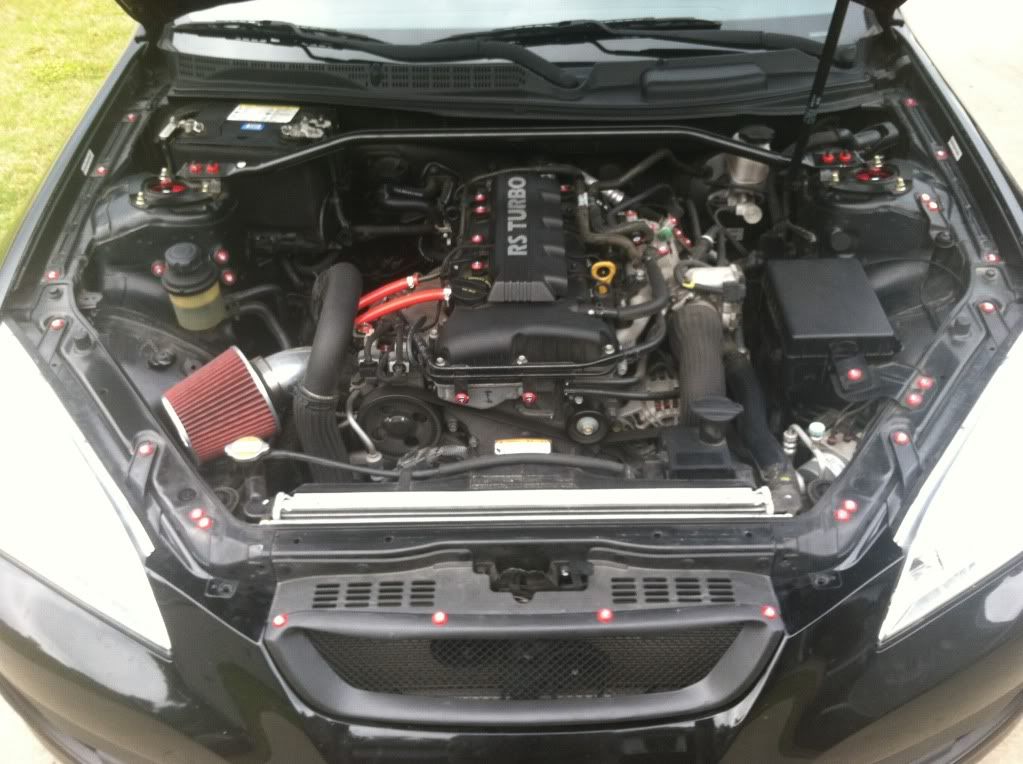 One of the guys that I first met after I picked up the Gen was getting out of the car and had an M&S Type D grill he was looking to get rid of so I bought that from him.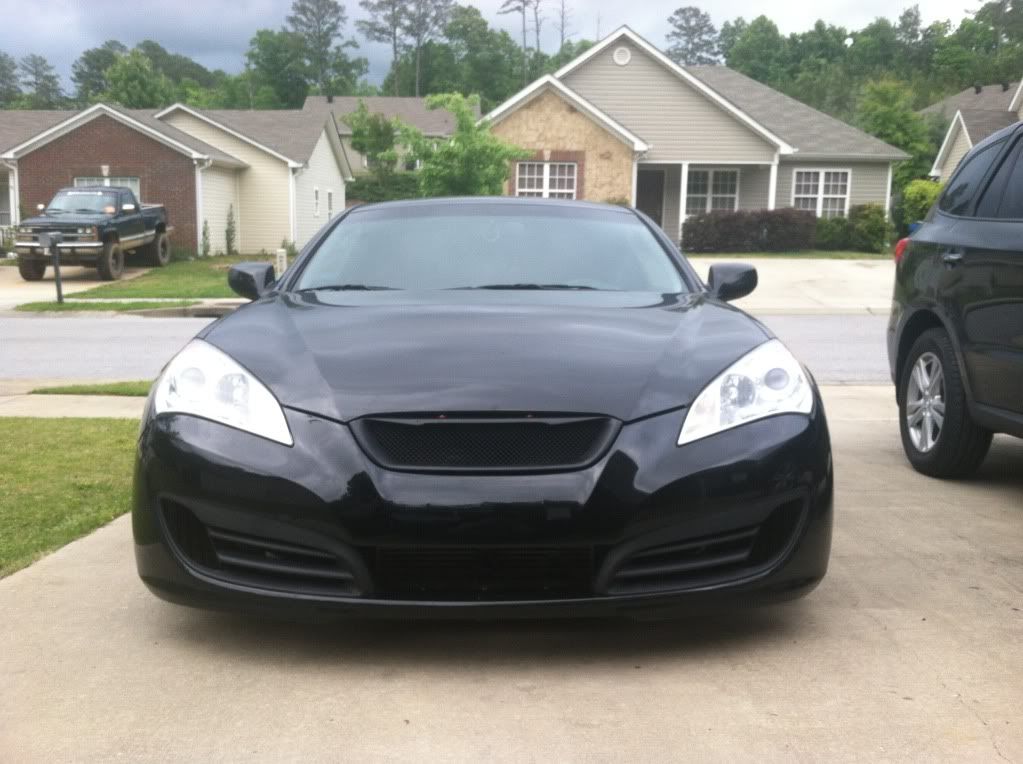 After that I found another member who was looking to part out and he had some Eibach Sportlines for sale along with an Isis Race Catback. He was pretty local so I went and picked them up. I actually did take pics of everything as I was installing it, but I got a new phone and forgot to upload everything to photobucket...so no pics of me installing anything. However, here is a pic of how the car looked with the springs on.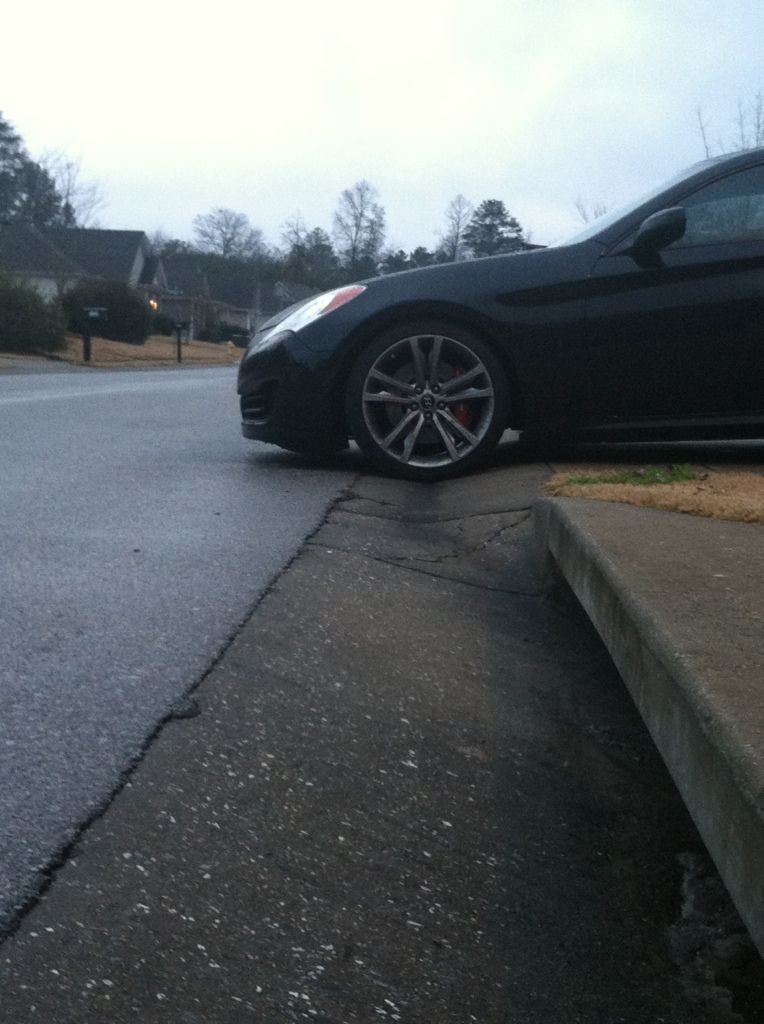 After dropping the car I really wanted to adjust how sunken in the wheels looked. A buddy of mine had just picked up a new set of wheels and was selling his Garageline spacers. Picked them up.
I rode around on the springs for a few months, but I knew I wanted to go lower so I started putting some money aside for coils. In the meantime... I decided to strip out the trunk and back seats. Because Racecar.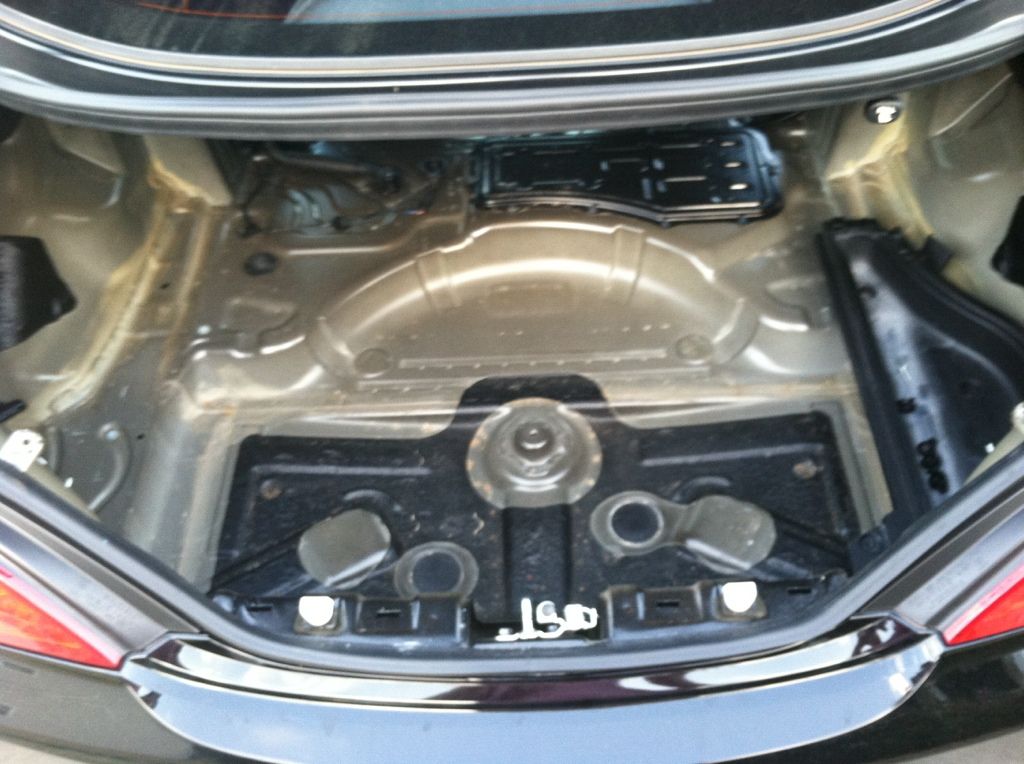 Then I bought a set of JDM Sport coils from GCTuner. I'm really not sure if anyone else on the forums (or anywhere for that matter) is running these, but I got them for a killer deal and GCT shipped them crazy fast.
[email protected]
said they were made in the same facility as BC and Megan and after reading some positive reviews in the FRS/BRZ forums I went with them. I couldn't be happier. I've had zero trouble from them and they will definitely take you as low as you want to go.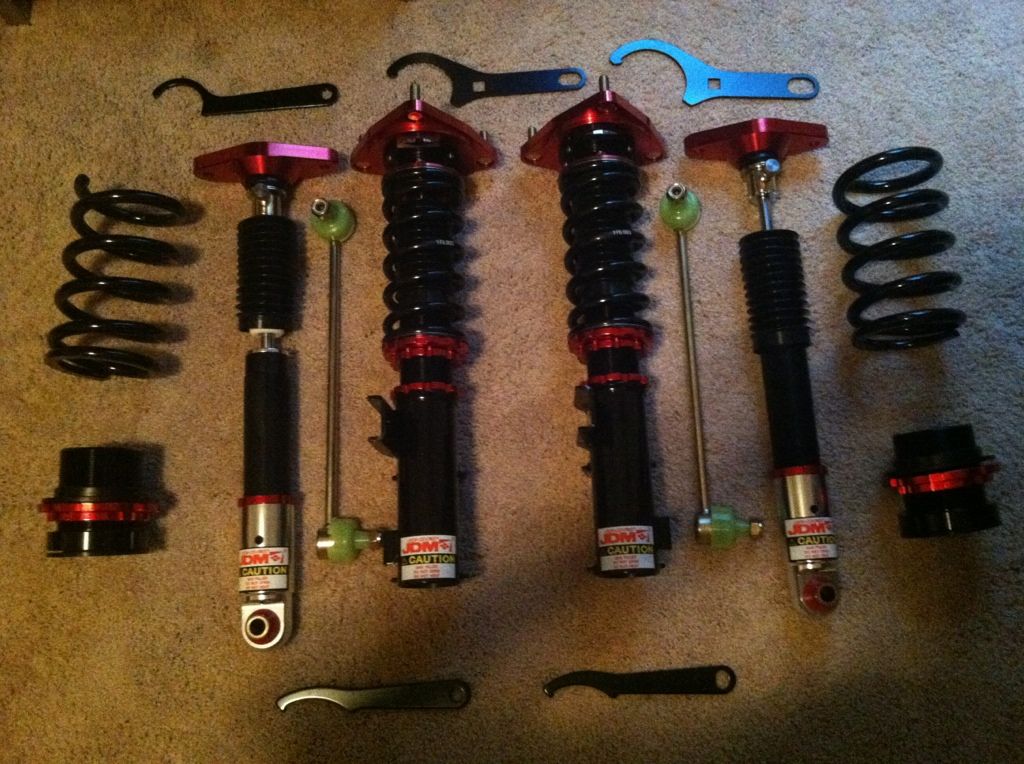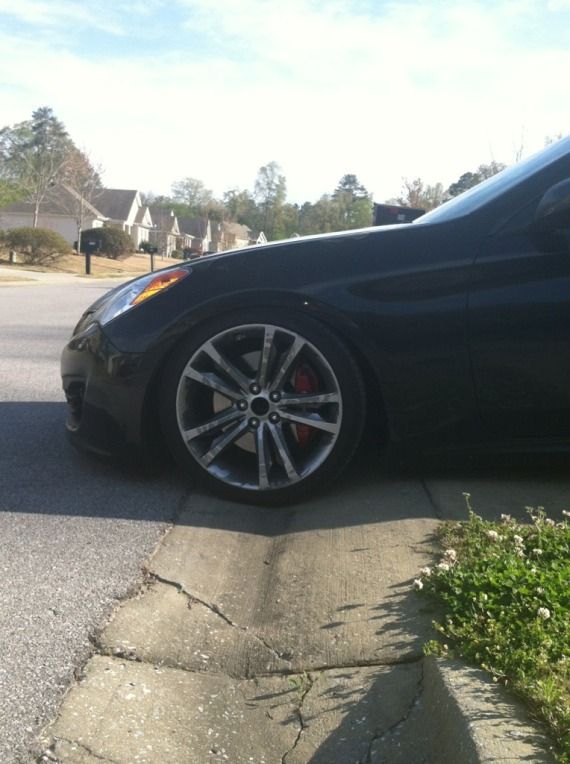 After adding the coils I kind of debated with myself on what to do next. While I was trying to figure that out...I tinkered. I went out one Saturday and just had a ratchet and wrench in my hand so I started moving things around. I decided I wanted to take out the windshield washer reservoir. I never use it and it was just in the way. Then I looked at the heat shields for the exhaust mani and the turbo. IMO, they look ridiculous so they were next on the removal list. And lastly, the passenger side fusebox. Now that the heat shields were gone I was a little worried that things might get too hot for the fusebox. Good thing there are guys who have topmount setups and have moved that fusebox under the battery. Go
HERE
for that DIY.
While I was under the hood I thought about trying the engine bolt dress-up DIY. That thread is
HERE
.
Here's a few pics of the engine bay afterwards.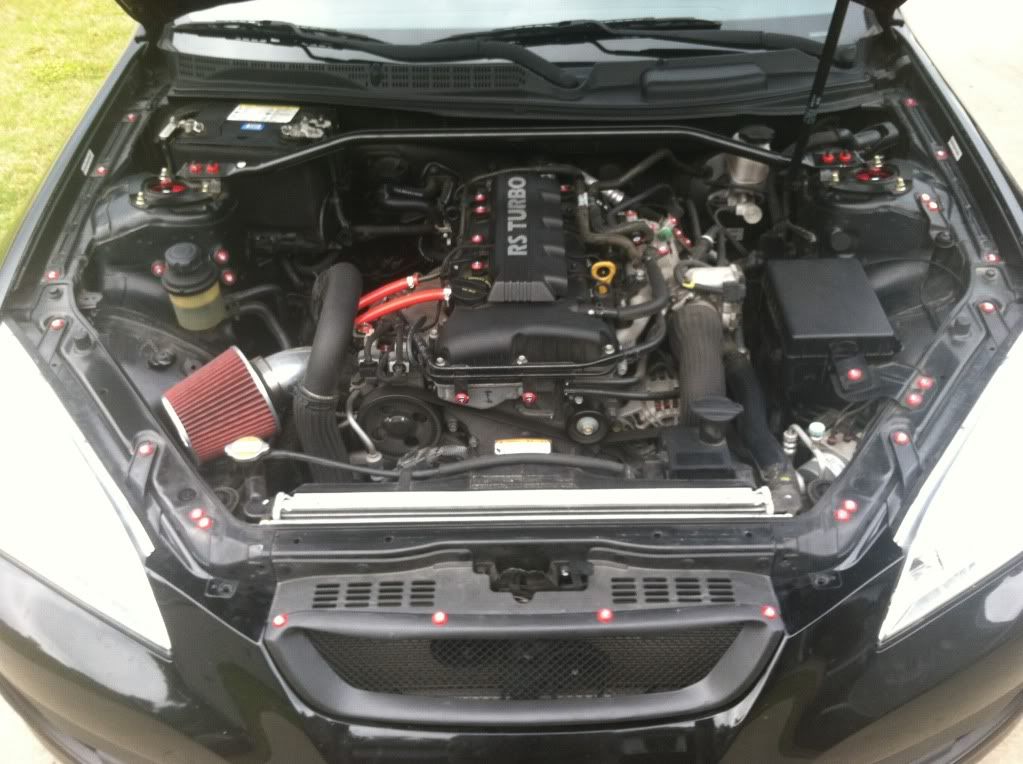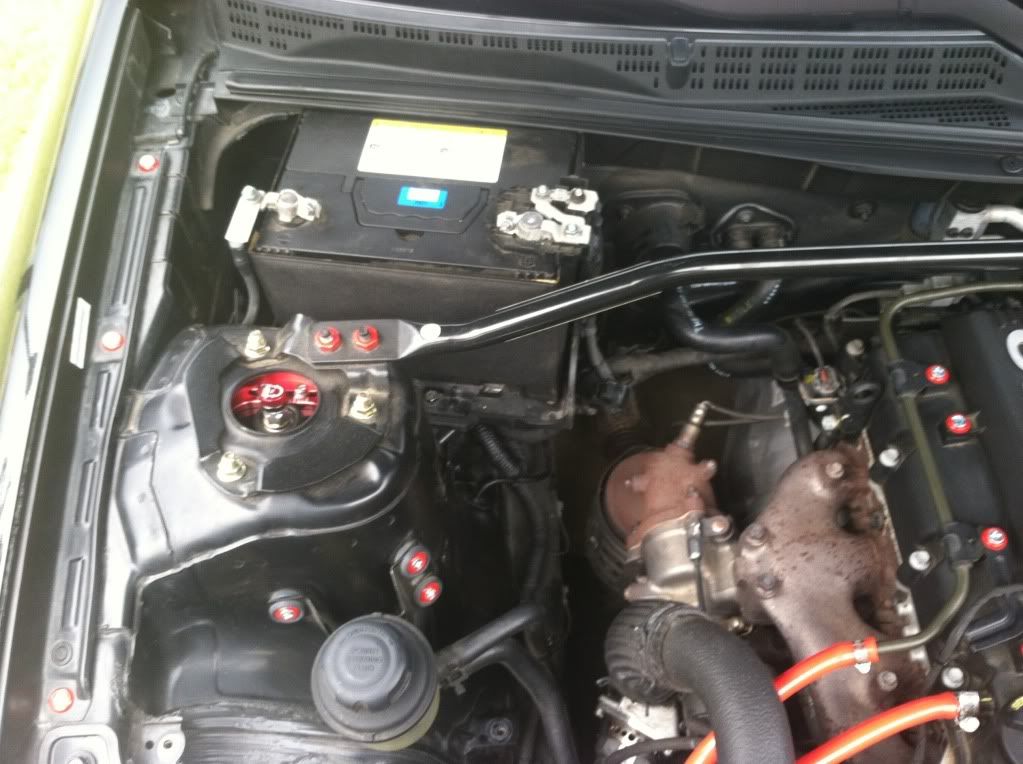 I finally decided that I wanted to finish off my TBE. I had the Isis Race already so I just needed O2 housing, DP/TP and Midpipe. I went with Depo for everything. I got the Depo catless O2 housing and the Depo DP/TP/Midpipe combo. Great products, everything shipped fast and it all lined up like expected. Sorry, don't have any pics of all that, but working in my driveway on jackstands with 10" of room to slide under the car doesn't give you a great opportunity to snap pictures.
And on to Post #2...