SFR Clutch Adjuster Rod Install
Hi All!
Let's talk about something a little different today. The SFR Clutch Rod Adjuster Kit.
I would like to preface this walkthrough by saying this- I did not take any pictures during the install because I was too busy rage-quitting and cussing, and wondering why god had forsaken me ( I'm an atheist and I still felt this way , this install is hard bro! ). I am recycling pictures taken by other members in another thread, and giving my own input on top of it. Special thanks to the following members for providing me with the information necessary to complete this install- RSPECHYUNDAI, TVONE2, CBRMAN77, and 1320drift. Even if not all of their advice worked for me, one must give credit where due. Also the pictures in this thread were taken by CBRMAN77 and 1320drift, and annotated by me.
Purpose of install:
The 2010-2012 Genesis Coupe did not come with an adjustable clutch rod from the factory, which is unbelievably stupid. Every other manual transmission car I have ever owned in the past has offered some small degree of clutch rod adjustment. Every clutch combination is different, every car is different. When installing a new clutch, the typical procedure ( in addition to the normal clutch break period ) is to adjust the "free play" of the clutch after 1000 miles, then again after 5k-10k miles before leaving it alone for pretty much the life of the car ( some people choose to re-adjust every 10k miles, YMMV What you're actually adjusting is the engagement point of the clutch- or where the clutch bites as you press and release the pedal- the physical point in the pedal travel where the clutch engages and disengages. ). As the clutch breaks in and becomes worn over it's lifespan, the engagement point will change on it's own and requires periodic adjustment for optimal operation. The OEM rod is also cheap plastic, and will certainly break at some point of the life of the car, lots of stuff will break before this, but it is seriously cheap plastic, like GI Joe cheap, so it's a mini disaster waiting to happen at some point in the later life of the car ( past 100k miles )
In my case, with my Competition Clutch Stage 2 kit, my clutch has always engaged at the very TOP of the pedal, which makes smooth driving very difficult. Shifting quickly is a bitch because I always have to fully take my foot off the clutch pedal to make sure the damned gear lever will actually move when my brain/hand wants it to move- we all know, the slightest ****up in timing during a speed shift causes a nasty grind. My goal is to move my engagement point further down the pedal, I'd like to get it to be about 30% down the pedal if possible. Some people with OEM clutches may wish to do the opposite, move the engagement point higher up the pedal. I've heard some of you have issues with the engagement point being basically on the floor, which is equally as dumb as my situation. I don't know yet if the adjuster rod will give me this much range, but I guess I'll find out soon enough.
Difficulty of install: ∞/10
Yes you read that right, INFINITY out of TEN.
I'm not kidding when I say that installing this tiny little clutch rod took me about as long as performing my last turbo upgrade. It's a B!TCH!! This install should not be attempted by anyone with an IQ below 150.
I rage quit this install twice, and only came back to it because I felt an altruistic desire to make sure nobody else's experience is as traumatic as mine was. I can't stress this enough, this install will make you question the very fabric of existence. It is harder than Ninja Gaiden Sigma on Extreme difficulty. You'll be a nihilist by the time it's over. You'll start reading Nietzsche, eventually begin to dabble in existentialism, and most likely bring yourself 5 years closer to senility due to the mental stresses of this install. You've been warned.
Why is the install so difficult? JustaSomeGuy really sums it up perfectly. It's all about that plastic C-Clip.
JustaSomeGuy said:

How does one remove that plastic clip? Remember we're talking lying sideways with our head and shoulders jammed up under the dash, trying to hold a flashlight, trying to see something black inside of something black....it's certainly not obvious that there's a plastic clip in there.
That just about sums it up.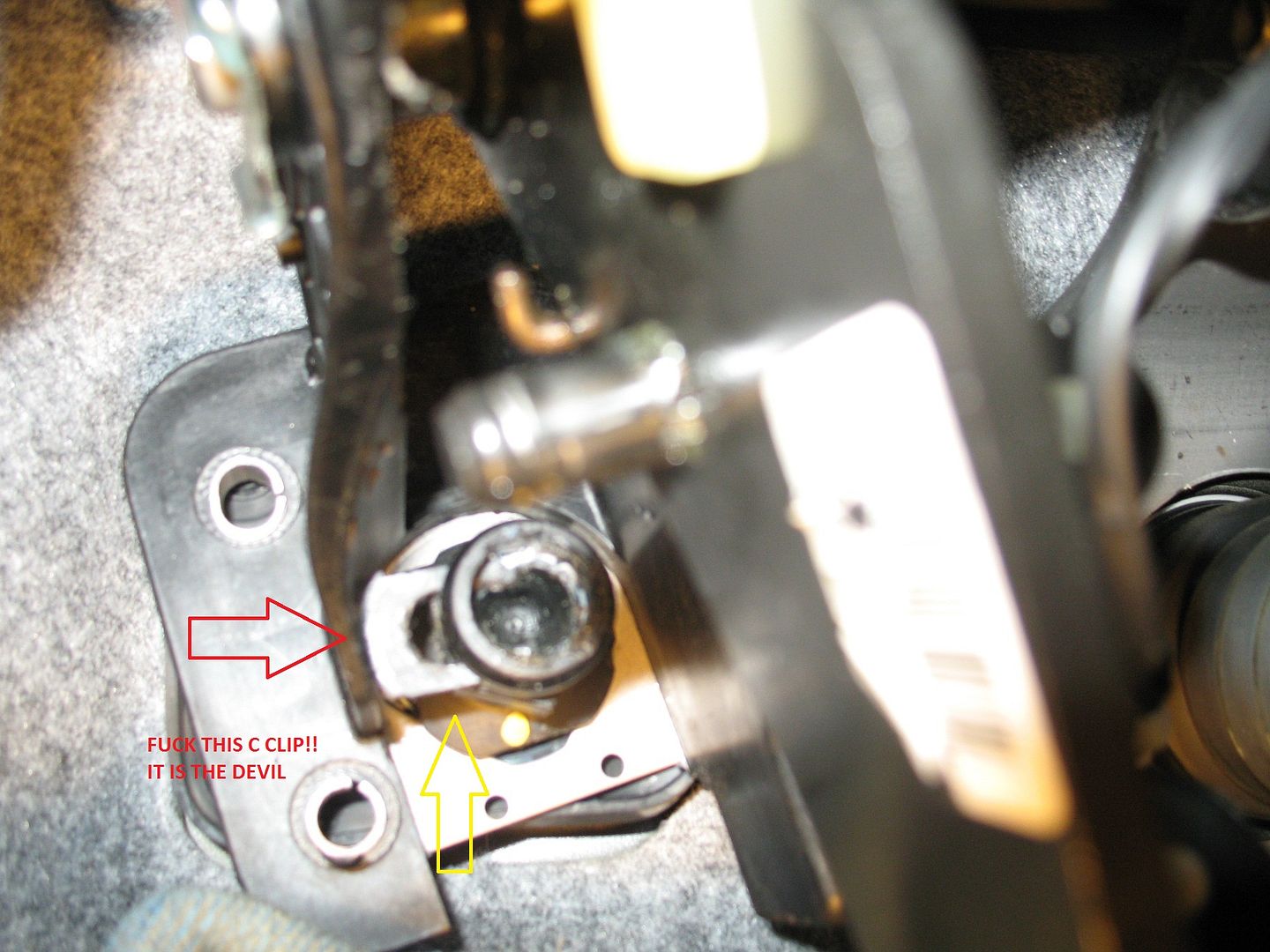 The part!
Here you go, the SFR Clutch Adjuster Rod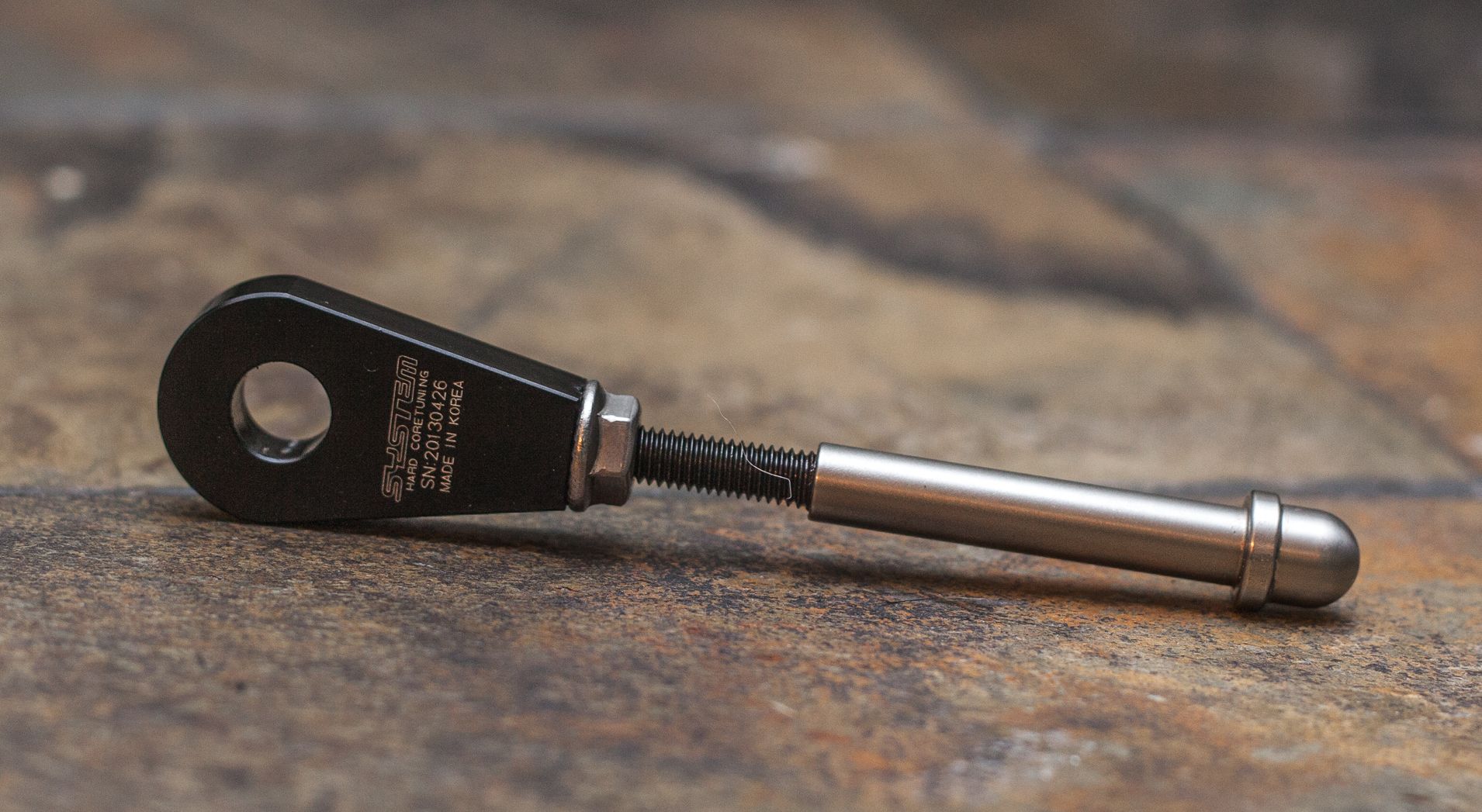 See the writing on it? If you zoom in it actually says
SFR Adjuster Rod said:

And I will strike down upon thee with great vengeance and furious anger those who attempt to poison and destroy my brothers. And you will know I am the Lord when I lay my vengeance upon you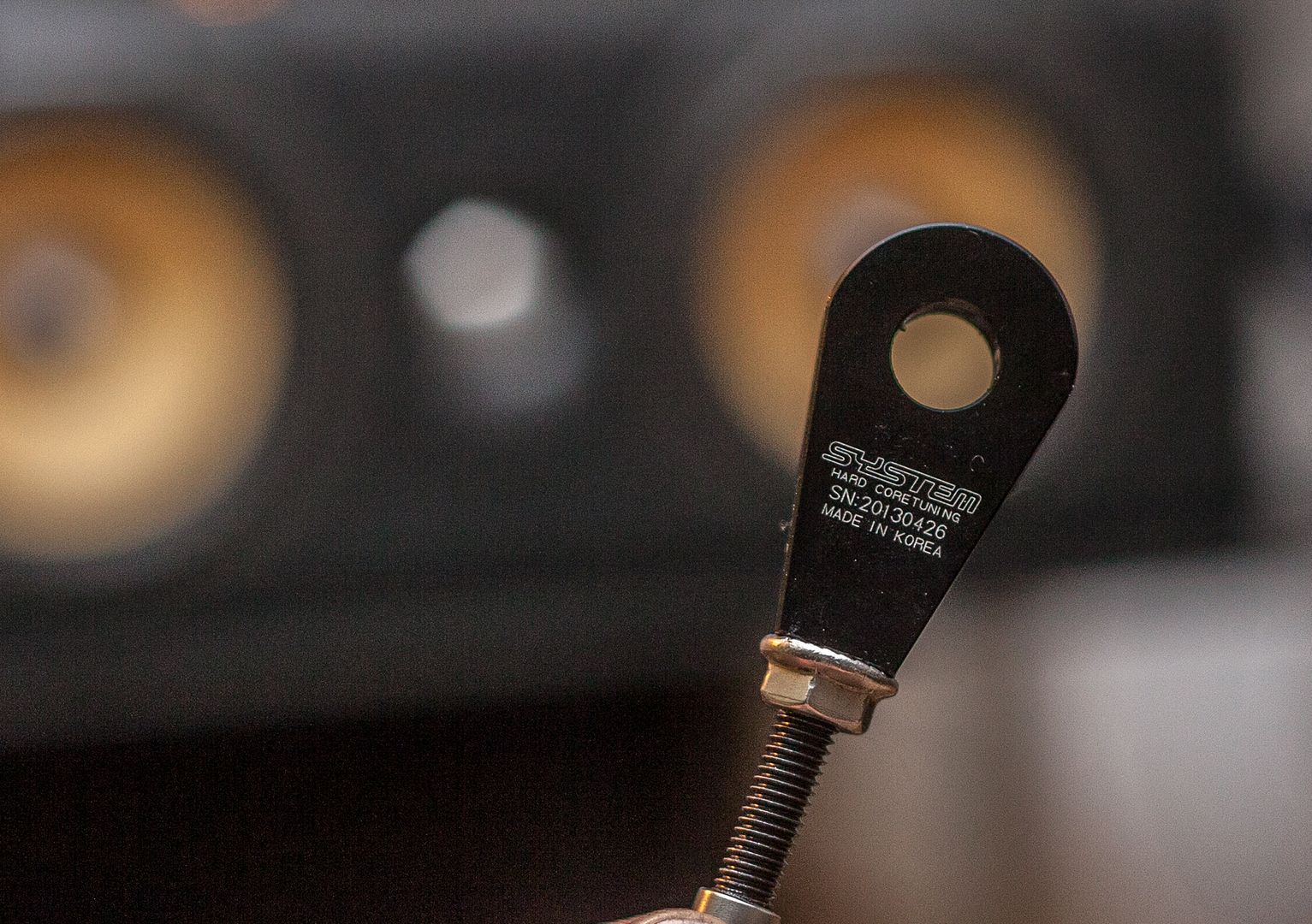 This thing made me feel like SFR is angry at me for some reason.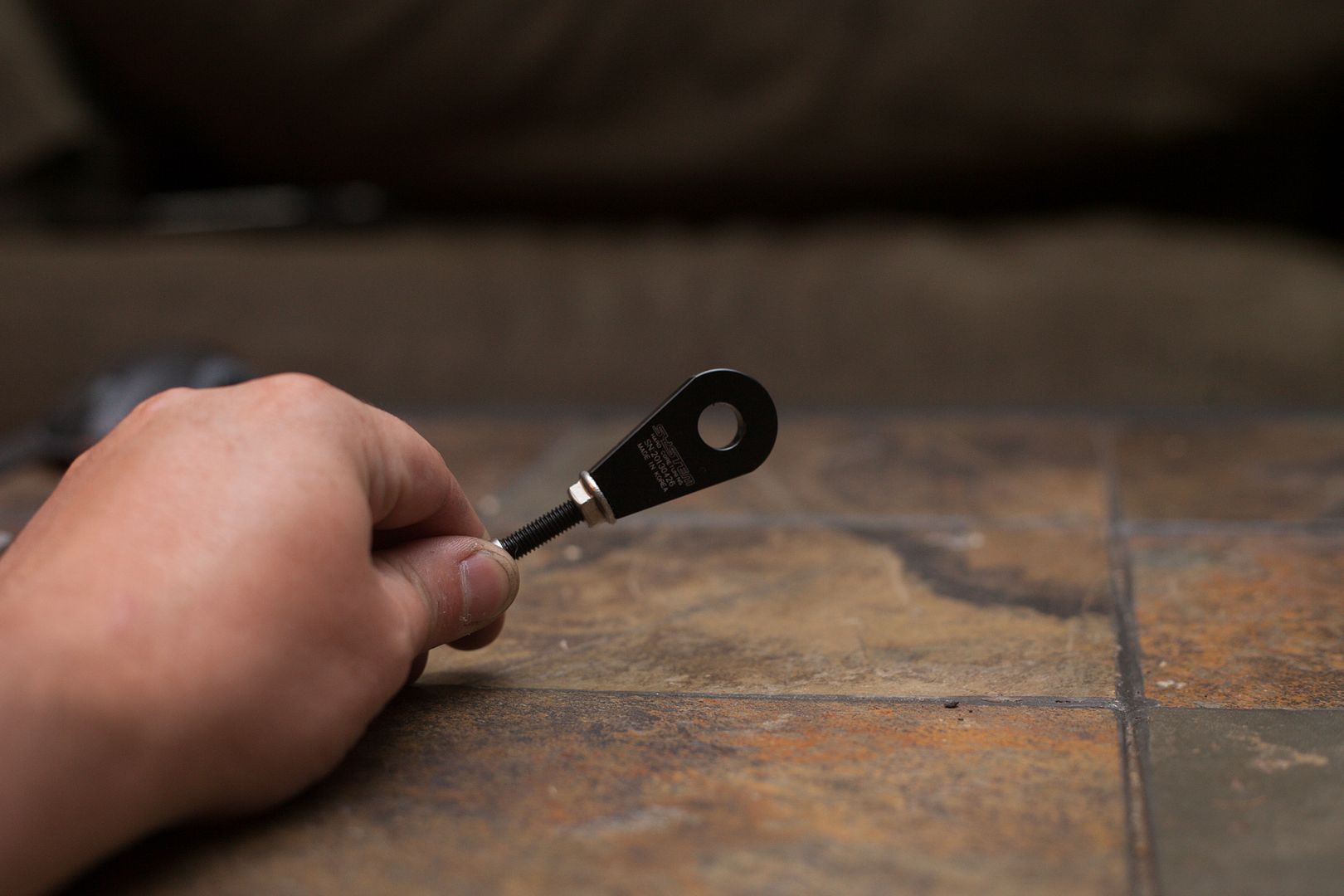 The range of adjustment is not huge, less than an inch. However in this case, when adjusting clutch free play, millimeters might as well be miles. They go a long way.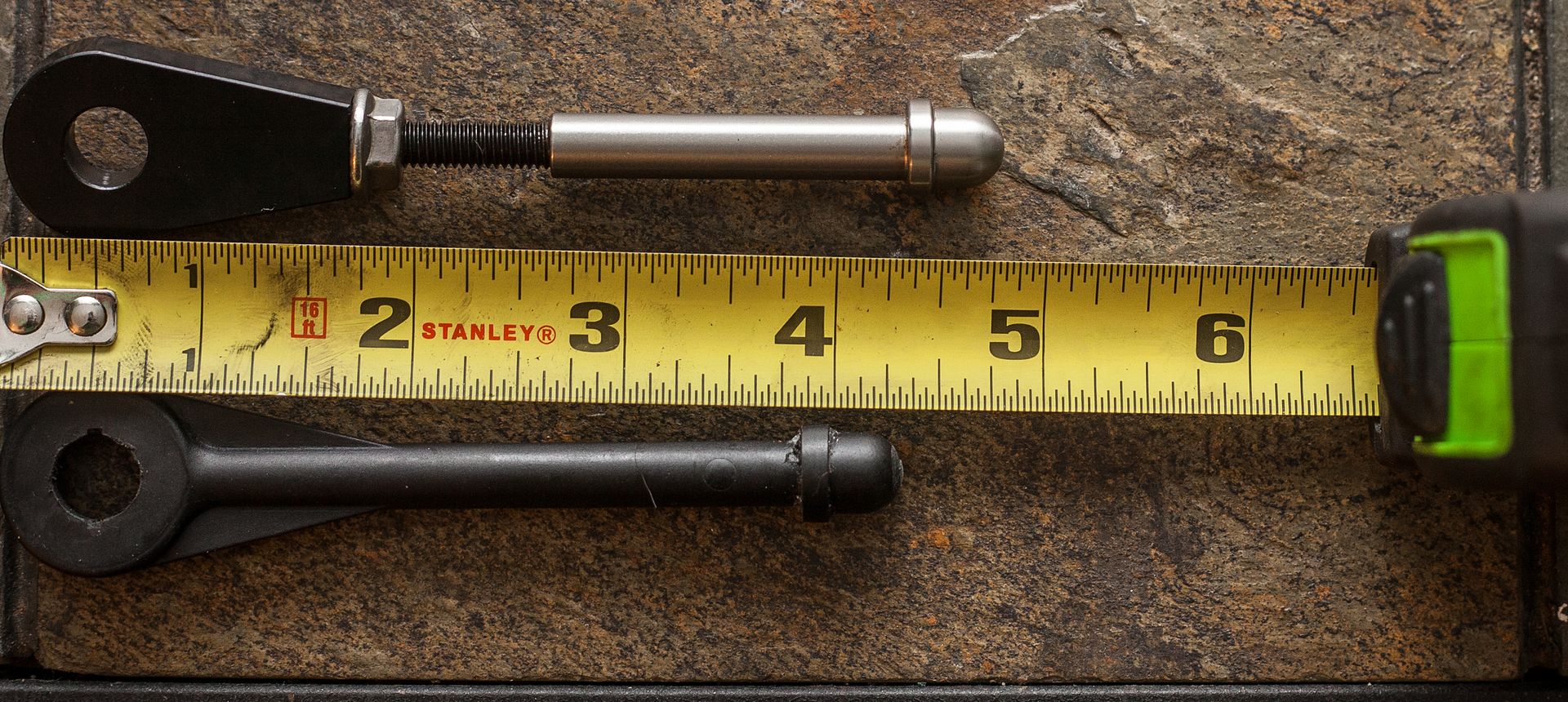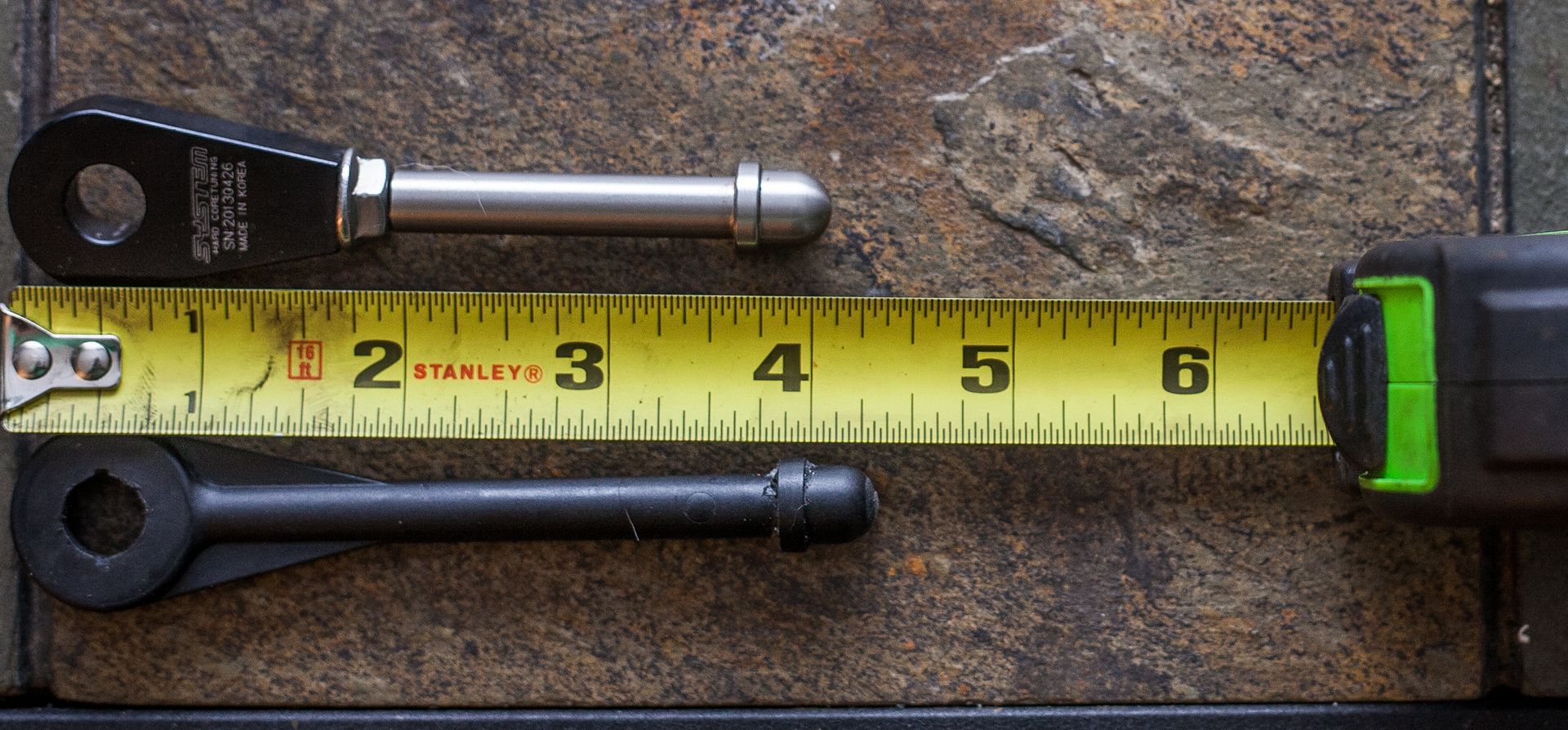 It may be possible to adjust it to be even shorter by removing the locking nut and spinning the rod all the way down to the base.
Also note that it is possible to adjust the rod so long that the clutch will not reach the switch at the bottom of the pedal, which I believe is used to start the car when you press the clutch in. You may be able to just tape that switch down though, which would give the added benefit of being able to start the car without pressing the clutch. I'll be experimenting with that pretty soon and will post my results in this thread.
Tools needed:
10mm wrench
12mm wrench
Dremel ( or drill )
Sanding wheel ( or drill bits )
Brake fluid
Band aids- big ones
Neosporin ( the real stuff )
Adamantium skin
Flat head screwdriver ( every size imaginable )
Jack
Jack Stands
Paper towels
The benevolent force of whatever deity you believe in, and if you're an atheist like me, sorry you're just going to have a hard time
Perfect planetary alignment including Pluto
Lots and lots of luck
IQ points falling out of you're a$$
Cool shady place to work
Lots of water ( and by water I mean beer )
If you have any diazepam laying around, now's the time to take one, cause you 'bout to get real, real mad
Brake bleeder bottle kit from the auto parts store ( usually about $10 )
Channel lock pliers
PhD in Theoretical Physics
Fitment issues:
1. Can be too long ( as described above )
2. The hole is machined incorrectly, too small. I had to dremel mine out. I actually received two of these things due to a shipping error and they both had the same fitment issue. RSPECHYUNDAI also had the same fitment issue. I would expect to have the same issue if you are reading this and just ordered one. SFR needs to fix this, because this install is hard enough without having to waste extra time drilling stuff out. It's a simple hole, what is so hard about making it the right size?
RSPECHYUNDAI said:

One problem I ran into was the machined hole in the new rod was slightly under sized and I had to hone it out with a little 400 grit paper on a rod to make it fit on to the clutch pedal.
In my case, sandpaper was useless, the hole was way too small. It took about 5-10 minutes with a dremel and sanding wheel to make it the exact size I needed.
Let's get on with the install. I am going to try and give you all of the different known ways to do this. This should be a <1 hour install, but it took me about 7 hours to figure it out and I'm a literal genius and super skilled installer, so figure that you're gonna have issues. I hope the info below makes this a much quicker process for you guys.
Install:
First- begin by doing the easy stuff- well "easy" is relative- keep in mind you're upside down, sweating, fingers bleeding already probably. There is a metal pin holding the clutch rod to the clutch pedal, use a flat head screwdriver to pry that pin downward and twist it to remove it. There is also a rubber boot at the base of the rod, pull that rubber boot toward the front of the pedal to expose the plastic hex nut looking thing, this Hex nut houses the C clip. You will notice that there are grooves in the side of this hex nut, you need to stick a flat head screwdriver in there to pry the C clip out. At this point you'll find yourself saying something like this out loud:
" Are you f!cking kidding me?
This is where the C clip nightmare begins. You should be staring at this:
The challenge here, is to get the C-clip backed out enough to release the rod. Seems so easy, except that EVERYTHING IN THE F!CKING KNOWN UNIVERSE IS IN THE WAY. Most of us will run into a situation like this where the clip is pointed sideways against the metal bracket for the clutch pedal mount. The space is too tight to fit any human made tool in there. It would be really handy to have one of those Star Trek transporters right here, just beam that f!cker right out of there, but seeing that we're at least 200 years away from that, you're stuck doing it the old analog way.
So.. what you need to do, is rotate the clutch master cylinder ( NOT THE MAIN BRAKE SYSTEM MASTER CYLINDER ) a little bit so the C clip points downward, so you can easily remove and replace it. It just sounds so simple! Well.. colonizing Mars is simple by comparison.
Here are all of the methods I compiled for performing this task, again with assistance from RSPECHYUNDAI, TVONE2, CBRMAN77, and 1320drift
Method 1: The luckiest guy on earth method, also known as Jesus Saves
Here is that C clip again-
So if you're one of the chosen people, you will find that your C clip is already pointing downward. If that's the case, this install is going to be cake for you, and you're literally almost done already at this point. Just pry the clip downward with pliers or a flat head screwdriver, the rod will fall out, the plastic piston and spring behind it may also fall out ( mine did ) and you will lose some brake/clutch fluid for sure. I lost at least ¼ cup. When you're done, just put the new rod in place, adjust it to the same length as the OEM rod for now, pop that C clip back in, and basically you're done.
It's too bad this method isn't going to happen to you, I just put it here for control purposes. LOL, don't get your hopes up buddy!
Method 2: The Wishful Thinker ( the 1320drift method )
1320drift said:

Install was simple. No need to unbolt the pedal. I would first turn the master about an 1/8th to 1/4 inch to the left and pull the clip out. Take out the rod and put your finger on the hole while you are replacing it with the adjustable rod. I had clutch fluid come out but not much. I haven't bled the clutch because I don't feel any air got into the system due to residual pressure.
So basically the way this method works, is by taking a pair of channel lock pliers ( try and find ones just like in this picture, they sell them at Lowe's for about $10 ). Put it on the FRONT of the plastic hex nut, and try to turn it about 90 degrees to the left, which eventually should get the C clip pointing downward for you to remove and replace.
If this works for you, you are truly blessed. It did not work for me. Any time I got it to turn, it would spring back into place as soon as I released the pliers, leaving the C clip in the original impossible position. It might work for you though, it worked for 1320drift.