Discussion Starter
·
#1
·
They're always after me lucky charms... HELP ME!!
So a while back I posted a thread looking for a new bumper as my lip broke.
http://www.gencoupe.com/private-classifieds-want-to-buy/54088-wtb-front-bumper.html
I got a quick response from a guy named Gen2.0t_Coupe.
-
-
Perfect right? I Need a KW bumper, he has a KW bumper
:bowdown:
So he sends me some pics and I say "Sure I'll take it" followed
with my address.
-
-
-
-
-
-
So I send off the money and then!!!
Silence......
I send him two messages and finally a response
-
-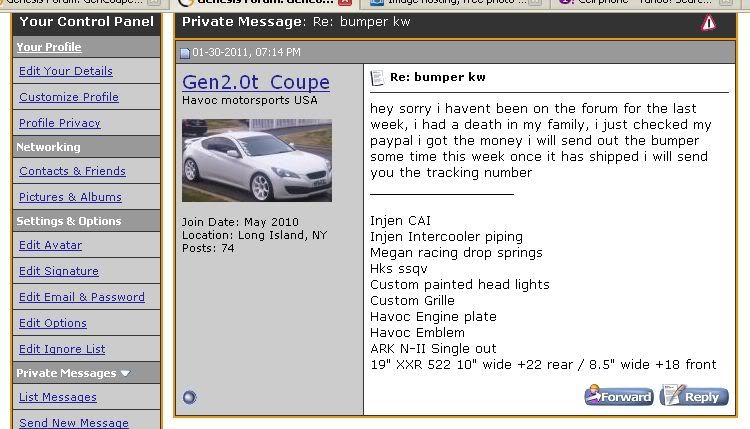 -
-
:squint: Alright I'll be a nice guy... AND!?!?!
Silence......
So I send him more messages, "whats the tracking number"
"Did you send it"
"What happened"
-
-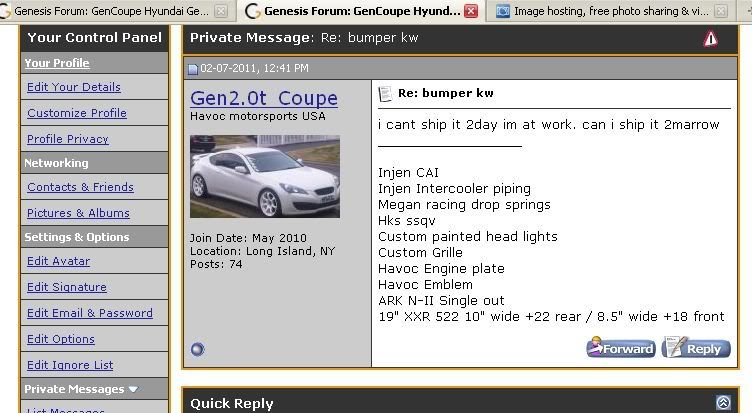 -
-
:squint::squint::squint::squint: Okaaaaay....
And that was all she wrote. Havnt heard from him since. I have sent numerous messages, he's logged on recently and basically just walked away with my money and I cant make a claim on PAYPAL because I sent the money as a gift :wtc:
So does anyone know this cat? I don't want this forum to turn out like the other auto forums where everyone borderline hates each other and its nothing but arguing. I want this community to be able to trust one another and the like.
Anyhoo if anyone can help me contact this guy or has any advise it would be much appreciated.
Thanks!